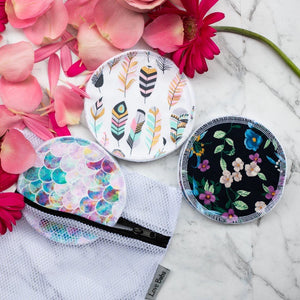 Reusable Breast/Nursing Pads
These gorgeous little pads have 4 layers: 
First a lovely soft Microfleece to draw moisture away from the skin to the absorbent part of the breast pad, and because it does not hold moisture, it feels dry, keeping your skin dry. 
Second we have a SUPER thirsty Bamboo fleece. 
Third is the PUL "PolyUrethane Laminate" (waterproof) layer to stop any soaking through :) 
Lastly and most importantly, your fabric choice on top to make the pretty :)
Please note – patterns are random and continually change so it's pot luck!  Don't worry they're all lovely! 
ALL Reusable Breast Pad orders come packaged in a wash bag